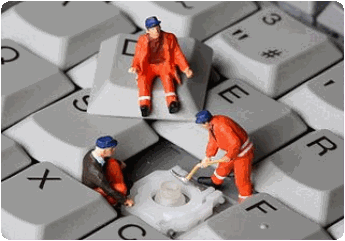 Not ready for a managed services plan? VisionTek systems also offers computer repair and IT services on an as needed basis.

Are you growing and need to add more computers? Is it time to make a better use of networking technologies? Are you comfortable with your backup processes? Is your laptop missing keys?

VisionTek Systems understands how important it is for your computers, network, phone, and internet systems to be running at peak performance.

What sets us apart from other solutions is our personal service. You could sign up with some national tech support company, but all they do is call around to local tech shops to see who they can hire to help solve your issue.


Many of these broker companies set you up with a plan, and then hire us to come in and do the actual work. So when there's a problem, or something else you need, it's another series of phone calls to get the results you need now.

VisionTek Systems is not a broker service. We have actual local technicians at our location available every day. This means you get quick, personal service from a technician who becomes familiar with your system - you get genuine VisionTek support. We're not just there to do the work and forget about you; many of our business customers come to us for advice, upgrades, new computer purchases, and solutions for expanding their businesses. Because of that strong relationship, our focus on doing what is best for our customers, and our quick response, businesses thrive with VisionTek Systems.


ü
Spyware and Virus Problems

ü
Internet and Email Connectivity Issues

ü
Wireless Networking

ü
Peripheral Installation

ü
Hardware Upgrades

ü
Cracked Screen Replacements

ü
Laptop Power Jack Repair

ü
New Computer Setup

ü
And More!
Contact us and let us turn your computer nightmares into a dream.
Copyright © 2010-2017 VisionTek Systems, Inc. All Rights Reserved.