VisionTek Systems can design, implement, maintain, and monitor all aspects of your computer infrastructure. As a business philosophy, we seek the best products and services to meet our clients' business needs.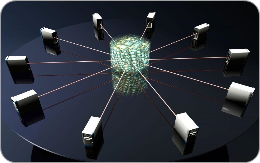 One of the most crucial aspects to a successful network implementation (as well as ease of ongoing support of the network itself) is based on the initial underlying design of the network infrastructure. Without proper design and planning, you cannot ensure a successful implementation.

One of the key components with our technology success is our ability to focus on the business aspect of technology (Business Before Technology!). Whenever we are working on a network design or network planning project our focus is always on the end result. What are your current business needs, as well as what will your business needs be in the future? It's our job to provide you with the best possible solution.

Do you need a $6,000 server? Maybe you do. And maybe you don't. VisionTek Systems designs a computer network for your business and your needs. We don't design fantasy networks or systems that have bells and whistles you don't need, and will never use. In all cases we always consider the underlying costs and Return on Investment (ROI). We work with our clients to design and plan the optimum solution for their business, considering the impact on future growth, while always working to ensure the highest possible ROI.

At VisionTek Systems, we design networks for business. Big or small. Local or Global. The businesses we serve need to communicate and network effectively. The tools we recommend for designing a computer network are chosen for their ability to seamlessly fit with a business and deliver results. Not for their bells and whistles.

Contact us today for more information about our network design and planning services.
Copyright © 2010-2017 VisionTek Systems, Inc. All Rights Reserved.